Shark Week has come and gone here at the Canadian Fossil Discovery Centre and what a busy week it was! With Dino Day Camp, new displays and activities run by CFDC staff, we are quite tired out but happy with the results of the week!
Shark Week kicked off with a Beach Blast at the Morden Beach. There was a small turn out, as it was also Harvest Festival weekend in Winkler, but those who came out had some fun! There was crafts, face painting and a chance to dig for real shark teeth! We also hosted a sandcastle contest, and it was quite hard to choose from all the great entries. Overall, we had three winners, who each received a free family admission to the Canadian Fossil Discovery Centre.
Our delicious shark fin waffles!
On Monday we had our first Waffle Breakfast! We served close to 50 people and received almost $150 in donations. Thank you to everyone who came out and made this event such a success!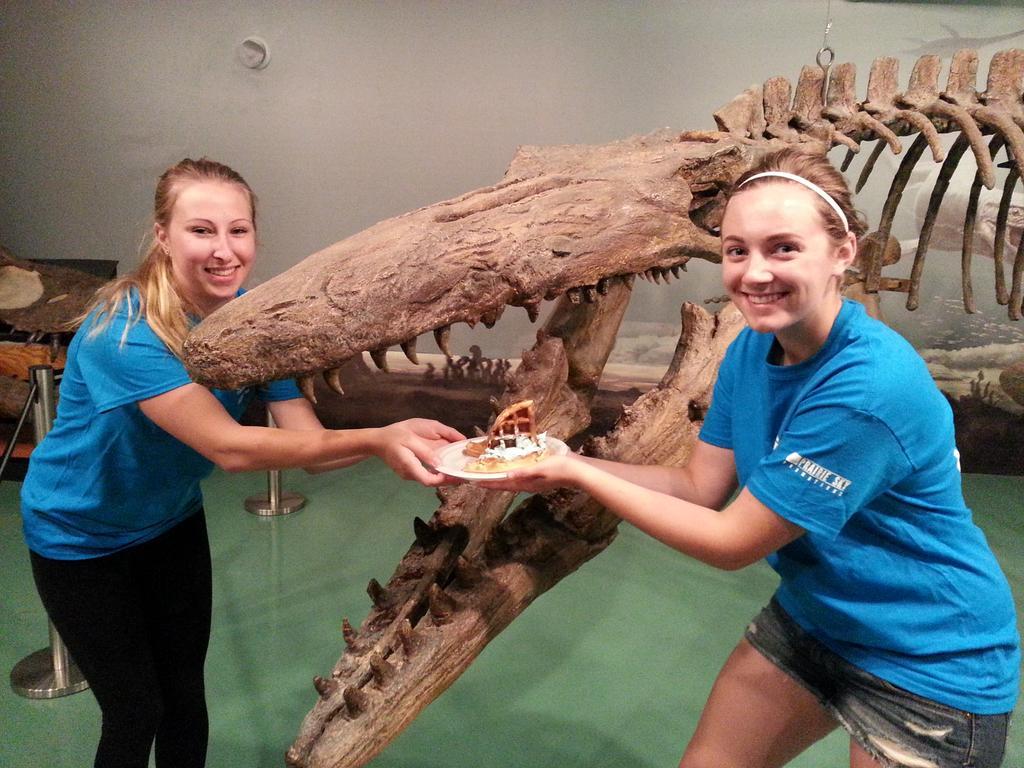 Even Bruce got a chance to eat some waffles!
Photo courtesy of Chris Sumner (@coleco55 on twitter).
To end off the week, we held a free Movie Night in the Museum! We had a double feature, showing "Finding Nemo" and then "Sharknado". While the attendance was not as high as we had hoped, those who came out enjoyed the movies and the free popcorn and drinks we served up. We hope to show more movies here at the CFDC in the future, so keep an eye out for that!
Dino Day Camp's Shark Week was by far the busiest week of the summer! Between the morning and afternoon sessions, there was about 25 kids registered in Day Camp everyday. Between crafts, games and snacks for the kids, everyone who came had a blast and our Day Camp coordinators are looking forward to wrapping up camp this week.
And of course throughout the museum we had special displays out specifically for Shark Week. These included a couple timelines of the evolution of sharks, as well as a display of the different kinds of sharks we find in modern waters. We also set up a display of some very well preserved shark vertebra, as well as a modern Tiger Shark jaw! The highlight of our displays for Shark Week was definitely our
Squalicorax
display!
This particular shark has been in our collection since the 1970's, but after taking a closer look at it and calling in a researcher to study it, it has revealed some surprising evidence. This
Squalicorax
is the largest and most complete specimen... in the world! We at the CFDC are obviously quite excited about this fact, and put it out for public viewing for one week; Shark Week! Hopefully you got a chance to check it out before it goes back into our collection room, and if you did not you can always book a VIP museum tour to get a closer look at it, and all the other wonders in our collection room.
Overall it was a highly successful week for the Canadian Fossil Discovery Centre. We had over 400 visitors throughout the week, not including those who attended Day Camp, or the special events throughout the week. Thank you to everyone who came out, and for your special interest in sharks!
Summer is winding down but Corn and Apple is coming up so there's some special deals and events to keep your eyes out for!
Thanks for making Shark Week a "Fin-tastic" week!
Paige Ready
Museum Assistant